Project: St Dominic Catholic Church
Location: 615 J C St, Garden City, KS
Lead Architect: Mick Gibson
Construction Superintendent: LA Evans
Parish Priest: Father Renner (Priest during the entire construction)
Background:
After the decision was made to build a new Catholic church in Garden City in the late 1970s, the St. Dominic Building Committee was formed. Once established, the committee interviewed the three main architecture firms in Garden City at the time, including Mick Gibson of GMCN Architects, Inc. Although GMCN was the youngest firm at the time, it was ultimately selected for the project, with Mick as the lead architect for the construction. In a recent conversation, Mick stated that it was an honor to be selected to design the church and a significant part of his career.
Upon selection, Mick met with Bishop Gerber in Dodge City over breakfast to discuss the new church. Mick remembers that Bishop Gerber was a great man and that the church wanted a certain number of seats in the church but let him devise the design and layout.
Research:
Mick traveled to three Catholic parishes in Wichita, KS to study their design and architectural features. He also spent a significant amount of time researching Catholic traditions and how to design the building to accommodate the parishioners for communion. Mick, who is not Catholic himself, also reached out to fellow parishioners and friends.
Design:
Mick, a Kansas State University graduate, loved the native Kansas limestone that adorns the buildings on the university's campus and decided to bring this design element to Garden City, selecting limestone for the church's exterior. A highlight of the church includes the exposed beams in the interior of the church which Mick remembers was a major undertaking. The beams arrived with 28 bolt holes in each beam already drilled into them, and each beam had to be matched up to the compression ring at the highest point perfectly. Two cranes were used for this project, one to move the beams and the other to hold the compression ring, and the day that the beams were put in place, a large crowd gathered to watch.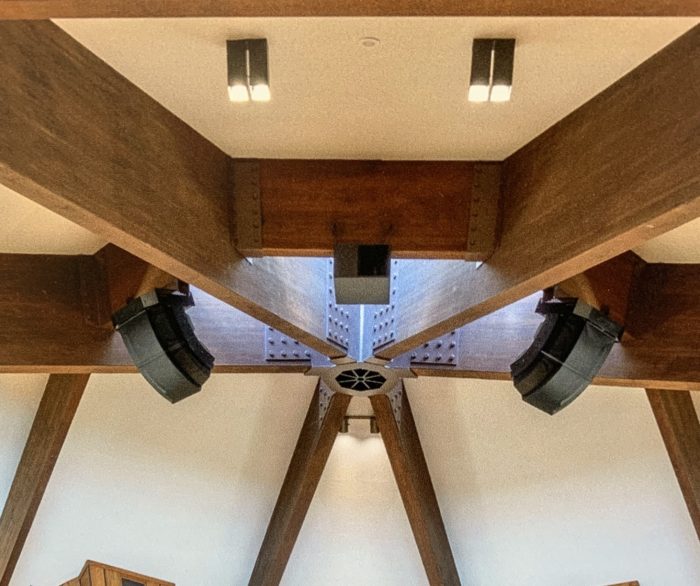 When viewed on paper, the layout of the church resembles a large square. The position of the church on the current site also takes into account that the church wanted to eventually add a parish center Mick's design included room for this to be built. The building of the church went well and continues to be used by parishioners to this day. St. Dominic's eventually added the Parish Center which was designed by another GMCN architect, Stewart Nelson.